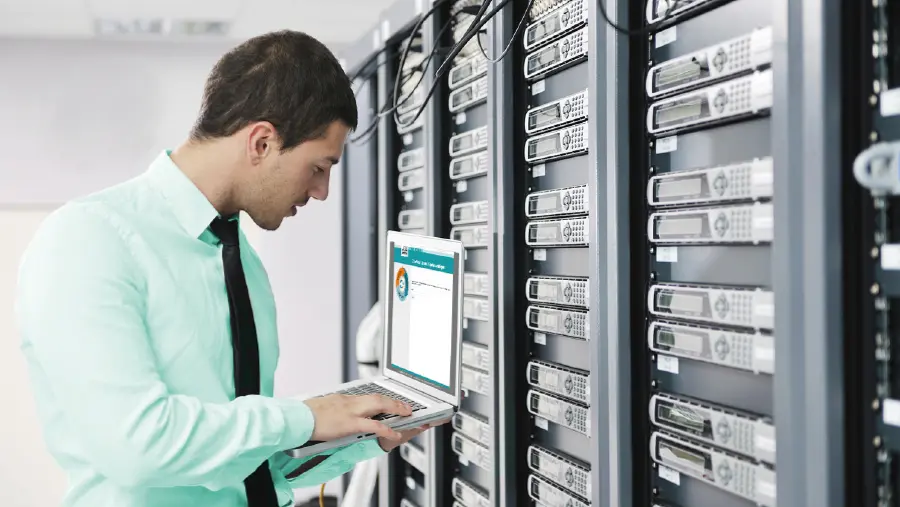 Wibu Operating Services
Operating the CodeMeter License Central back office solution over the Internet is not rocket science, but it might require certain activities and specialized know-how that are not necessarily part of the core competences for regular system administrators. Put CodeMeter License Central operation into the hands of our experienced professionals. The service you will receive is worth every penny – and, you can keep concentrating on what you do best: your business.
Back Office Solution
CodeMeter License Central is the back office solution that helps you efficiently deliver licenses to your users. Here is how it works: A user buys a license for your software, and your web shop, CRM/ERP system, or your sales rep sends a request to CodeMeter License Central. The user's customer ID, an order ID, and the exact licenses are reported, and CodeMeter License Central returns a ticket number. You send this ticket number to the user by email or traditional license entitlement certificate.
With the ticket number, the users can retrieve their licenses from CodeMeter License Central at their convenience. This can be done either by browser via the so-called WebDepot or – if the option is integrated in your software – by an activation wizard. The licenses are then activated.
This mechanism works for both CodeMeter hardware (CmDongles) and for the software option (CmActLicenses). CodeMeter License Central offers many other options, such as deactivating licenses, blacklisting CmContainers, or reactivating licenses. You also have access to license entitlement reports, e.g. when and which licenses were retrieved.
The Machine Room
CodeMeter License Central uses a Linux virtual machine which operates:
a web server to provide the interface,
an application server with the business logic, and
a database that stores all of the information.
In order for CodeMeter to create licenses, the application server needs access to a CmDongle with special entries, known as the Firm Security Box (FSB).
The connection for retrieving (WebDepot, Gateway) or creating (Connector) licenses works via PHP scripts by default, usually running on a web server in the Demilitarized Zone (DMZ). The DMZ is the area of the network, which is accessible from the outside.
On Premise …
Wibu-Systems delivers all of these components fully prepared for you to install CodeMeter License Central in your own IT environment. For this on-premise solution, you need a host for your virtual machine (1-2GB RAM, 1vCPU, 20GB file storage) and connection with an FSB (physical machine with an operating system supported by CodeMeter Runtime).
The IT operators will need to understand CodeMeter functionality. For the system to run via the Internet, allowing your users to activate licenses directly on demand, the interfaces (WebDepot, Gateway) are placed behind an initial firewall. The interfaces enable communication via web services directly with the application server of CodeMeter License Central, which should be located behind a second firewall for improved security.
Once the system has been set up for regular operations, security-critical patches need to be installed regularly on the Linux system of the virtual machine. You will also want to update to newer versions of CodeMeter License Central to enjoy the latest features we release on a regular basis.
… Or as a Service?
Setting up and operating CodeMeter License Central can be a complex task – but one that certainly pays off when it enables you to deliver licenses to your users around the clock. We want you to be able to concentrate on your core business, which is why Wibu-Systems began to offer a hosting service more than five years ago. Our WOPS team (Wibu Operating Services) takes over all of the work for you and provides the services you need 24x7. Your users can reach CodeMeter License Central via the http address on https://lc.codemeter.com or, if you wish, via your own subdomain. WebDepot can be tailored to match your corporate branding. Whether hosted or run by yourself, the end product looks the same.
Access to the web interface, for configuring the items, for analyses, or for manual sales, is protected by user name and password as well as an https client certificate to prevent attacks by hackers. You can also use client certificates to access the web services of the application service, with trusted protections against misuse.
Professional Data Center
For optimum performance, the right infrastructure needs to be in place. Initially, Wibu-Systems hosted the first CodeMeter License Central installations on site, but increasing demand led us to seek an experienced data center partner who would enable us to operate all the FSBs needed to produce licenses. We found a reliable partner, TechniData IT-Service (www.its-technidata.de), who now keeps the CodeMeter License Central installations hosted by us in a data center near Stuttgart, Germany. The CodeMeter License Centrals running in a "FlexCloud" can easily be scaled up on short notice whenever we need new installations. Strong firewall protection and the security principles of professional data center operations, like redundant external connections, access control systems, fire protection systems etc., ensure the flawless and reliable operation of your back office solution.
Depending on the number of users and sold licenses, the number of transactions (activations, reactivations and deactivations) will differ widely on any given day. There are some software vendors who need one activation per day, while others average five activations per minute. We have prepared a selection of different versions to fit the specific needs of our clients in terms of price and technology. Your version choice determines how powerful your system is and how many license transactions it can handle.
Datacenter Edition
Clients with no more than 50 activations per day will benefit most from the Datacenter Edition. This option has multiple clients using the same server. Of course, all data is kept strictly separate and stored in individual databases. If your requirements increase, moving up to one of the larger-scale options is possible at any time.
Dedicated Server Edition
If you need direct access to the web services or want to use custom extensions produced by yourself or by Wibu-Systems Professional Service, you will require the Dedicated Server Edition at a minimum. It gives you access to your own virtual machine with allocated memory and CPU.
The Dedicated Server Edition handles up to 100 transactions per day.
High Performance Edition
FSB operations are time-intensive and can only be run in a strict sequence without overlap. If you require more than 100 transactions per day, you should consider the High Performance Edition, which gives you your own FSB server designed for up to 1,000 transactions per day.

High Availability Package
If more than a thousand transactions per day are required, you need to scale up the entire system. The High Availability Package comes with two High Performance Editions with a dedicated load balancer preinstalled, substantially improving performance. Should an unexpected event occur, only one line would typically be affected, and work can go on as usual on your second line. This also allows you to conduct maintenance without interrupting service, as only major version updates will need some scheduled maintenance downtime.
Top Service
All systems, from the hardware to the operating system and the applications, are monitored around the clock. Intelligent self-reparing capabilities are built in to enable the system to fix itself. The professionals on Wibu Operating Services' team are also notified immediately and can intervene whenever the automatic facilities cannot resolve the issue themselves.
All disruptions and incidents are monitored and analyzed. The findings are used to produce automatic scripts to avoid or resolve the issues immediately should they occur again. In this manner, we are constantly improving our already excellent reliability track record and are able to operate many installations of CodeMeter License Central in parallel.
All systems are monitored on the application level, all day, every day. Wibu Operating Services currently hosts over 100 installations of CodeMeter License Central. Ready to join the winning team?
KEYnote 31 – Edition Spring 2016