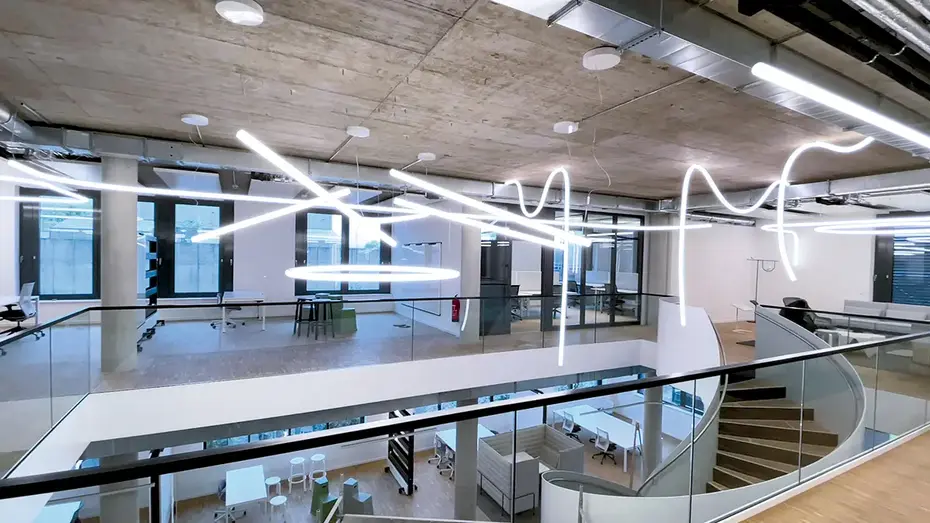 The IT Security Club – Where Innovation Meets Community
November 2021 was chosen as the perfect time for the grand opening of the IT Security Club. Breaking the mold of standard shared office spaces, this unique site is dedicated to one issue and one issue only: IT security. It gives enterprises, public institutions, and researchers in the field access to cutting-edge facilities in the stylish environs of the House of IT Security. One of the many exceptional features of the Club is the innovation network that also welcomes outside partners.
Co-operation
Innovation happens when competencies come together. The tenants of the House of IT Security form the backbone of a dynamic network of IT experts from across and beyond Karlsruhe's IT security ecosystem. Wibu-Systems is committed to advancing IT security research and practice by bringing together and actively supporting the work of leading research institutions and enterprises in the field.
Innovation Management
An innovation manager is available to support members of the IT Security Club with finding the right co-operation partners and applying for national and EU funding for their IT security endeavors. Innovation workshops are hosted to generate new visions and ideas. Concepts are prepared to help market the products born in the R&D work at the site. Pilot users are found, their requirements surveyed, and potential competitors identified and analyzed. An innovation network is born that brings together the members of the IT Security Club, but also external partners in return for a small financial contribution.
Facilities
A modern place to work with 12 desks in closed offices, 26 private desks, 36 fixed and 56 flex-desks for productive and confidential work and efficient co-operation. The 14,000 square foot facilities include a reception desk, meeting rooms, secure lockers, a work café, work lounges, the unique agora space, and much, much more. Short-term leases starting from three months offer great flexibility for different co-operation formats and allow breathing space with an adaptable number of workplaces. The all-inclusive, no-worries lease comes with reception and cleaning services, supply of mineral water, power, Internet and WLAN connections, a professional IT infrastructure with printers and scanners, personal lockers, showers, controlled and secure 24/7 access, high-end office facilities, and lots of amenities like stylish lighting, flowers, and more.
Membership
Non-tenants can get access to the work café and meeting rooms, with annual membership options available. The ZIM innovation network welcomes all SMEs – companies employing up to 250 people, with €50 million in annual turnover or €43 million in total assets – who are actively interested in IT security. Is this you? Then contact us at itsc(at)itsec.house.
KEYnote 42 – Edition Fall 2021