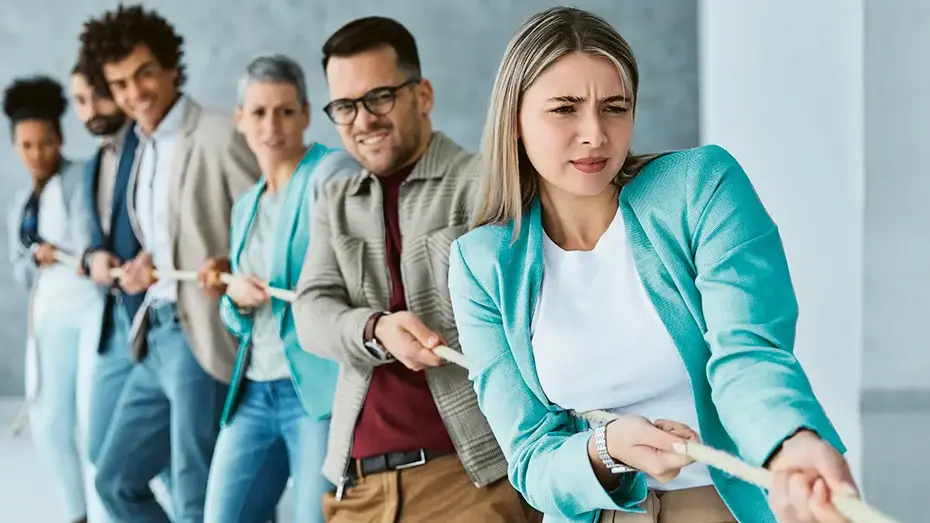 Integrating Resellers with CodeMeter – Two Routes, One Destination
CodeMeter License Portal is a powerful tool for managing individual users or groups of users in a smart, tiered hierarchy that can cover most of your workflows and procedures' needs. Administering the licenses of large corporate clients becomes as easy as sharing educational licenses on a campus. One typical use case for this is the ability to integrate resellers and distributors in your sales processes: The better and easier this is, the happier your partners will be and the more motivated to sell your products. This article tells you more about the two fundamental ways to do so: One, with an ERP system taking the lead, or two, with CodeMeter License Portal as the system in charge.
ERP System in the Lead
In this case, the licenses and the tickets required for them are created through the ERP system; direct sales would follow the same exact workflow. In parallel, each partner is entered as a reseller in the CodeMeter License Portal, and for each reseller, a user is created with admin rights. This user can then create more users in his/her group or, depending on the hierarchy, create additional subgroups. As the admin acting for the reseller, the user has access to all data and information on his/her branch, but cannot access any other resellers or the higher branches of the hierarchy, that is, the original software vendor.
Now, the newly created licenses are assigned to the reseller's pool, which would ideally be done by an automatic mechanism in the ERP system. As is the case for creating licenses, CodeMeter License Portal has an API function that can take care of this immediately after creating the tickets. Alternatively, more conventional routes are available (by email, delivery note, license mail etc.). In these cases, the resellers would add the tickets manually to their pools. Whichever option you choose for the process, the best practice recommendation holds: A separate ticket for every license.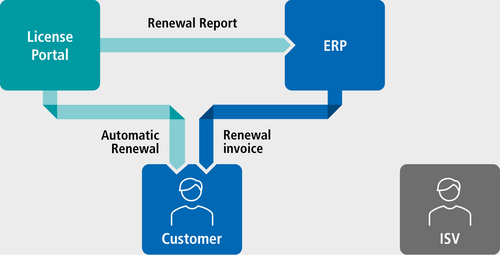 And this would be all the effort required from you as the original software vendor. Your resellers can now go out into the market with their pool of licenses. Again, the Portal gives them full flexibility: The resellers could create a new client and one or more users per client to allocate tickets to from their pool, and the resellers can also choose their preferred route: A printed ticket, a ticket per mail, a ticket assigned to a user, etc.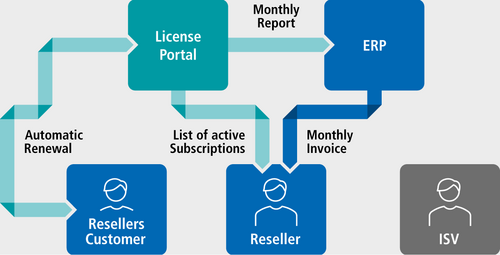 License Portal in the Lead
If you are not using an ERP system or prefer simpler logistics, you can also create tickets and licenses directly through CodeMeter License Portal. Our Professional Services Team is available to tailor this option to your specific needs: You define the product groups and assign items from CodeMeter License Central to each group. You could even define specific properties, like the maximum length of time that a trial license can be used for.
Next, you need to put your retail partners in place as resellers, as you would with an ERP system. You can give the admin account of each reseller the right to use a certain selection of product groups or configurations, which enables the reseller to create licenses. In turn, the resellers' admin users can create new users, whose rights would be limited to the rights that the reseller has as well.
For the next step, the reseller can then create clients and the right number of licenses for them. The main difference to working with a mainstream ERP system is that the resellers are not given a pool of tickets. Instead, each license is created just-in-time for them. As the original vendor, you define which licenses and which license options can be created.
License Reporting
In particular, when you work without a mainstream ERP system, reporting is essential for the licenses created by your resellers. Again, our Professional Services Team is ready to help you tailor the reporting mechanisms to your interfaces and your specific needs.
The simplest reporting system would create a list of licenses, including full, trial, and subscription licenses. You could export this list regularly, e.g. once per month, and process the data in your back office systems. Alternatively, you could source the data automatically via SOAP, REST, or email to a defined recipient, e.g. for an automated billing process.
Best Practices for Subscriptions
One popular use case in the real world are subscription licenses. In certain cases, these can be hard to implement with typical ERP systems, making CodeMeter License Portal a welcome alternative. Subscriptions would be created through the CodeMeter License Portal and set to run until these are cancelled or revoked. A cancellation would prevent the automatic renewal, while leaving the users the ability to use their software until the end of the subscription period they had paid for. When a subscription license is revoked, the license is set to be deleted at the next possible time. This is used e.g. when a client goes back on their purchase or when they decide to switch to a different type of license.
When selling subscriptions through resellers, monthly group billing is the way to go. The Portal can create a list of active (i.e. not cancelled or revoked) subscription licenses, either for a set threshold date or, for newly started or recently cancelled licenses, with accurate dayby-day information. You can then bill these licenses separately through your ERP system and include a list of active subscriptions as an " itemized bill" for your reseller.
For direct sales, subscriptions can be billed on an annual basis. Automatic renewals would be included in the report for the month they happen in, which again allows you to create a bill separately through your ERP system. An automatic import mechanism is a great relief in this case; one best practice in this case would be to handle your internal sales unit like a reseller on the Portal, but to create end user bills, instead of the summary bill for a regular reseller.
Customer-Facing Processes
On the client side, you have all of the functions at your disposal that you know and love from CodeMeter License Portal. A client's admin has the ability to create additional users, manage license pools, or assign individual tickets or licenses to individual users. Further down the line, users can activate and move their licenses or recover lost licenses through the Portal.
Where is the Data Kept?
As the original vendor, you should work with your partners to define which data is collected about your end clients. The options would range from pseudonymized IDs to a full address database, always mindful of the EU's GDPR requirements: Clients must be informed about which data is collected, and what it is collected for. Since the data is used to recover licenses in the case of loss or failure, you should, in principle, have a legitimate reason to collect such data.
CodeMeter License Portal gives you the opportunity to delete data from the database in compliance with the GDPR requirements. Optionally, a License Portal could also be located in a local network or a private cloud at the reseller or an enterprise client. In that case, you, as the original vendor, only have access to information that is fed through to your CodeMeter License Central.
Internal Licenses (NFR)
It happens quite frequently that employees need internal demo licenses (NFR – Nor For Resale). As always, CodeMeter License Portal has the perfect solution for them: You can create dedicated NFR licenses, which would typically be time-limited, but set to renew automatically like subscriptions. The renewal period can differ from that of subscriptions. One best practice for NFR licenses is to allow them to activate all features, which would work via a separate Product Code that can set all software features to be active at once.
KEYnote 45 – Edition Spring/Summer 2023