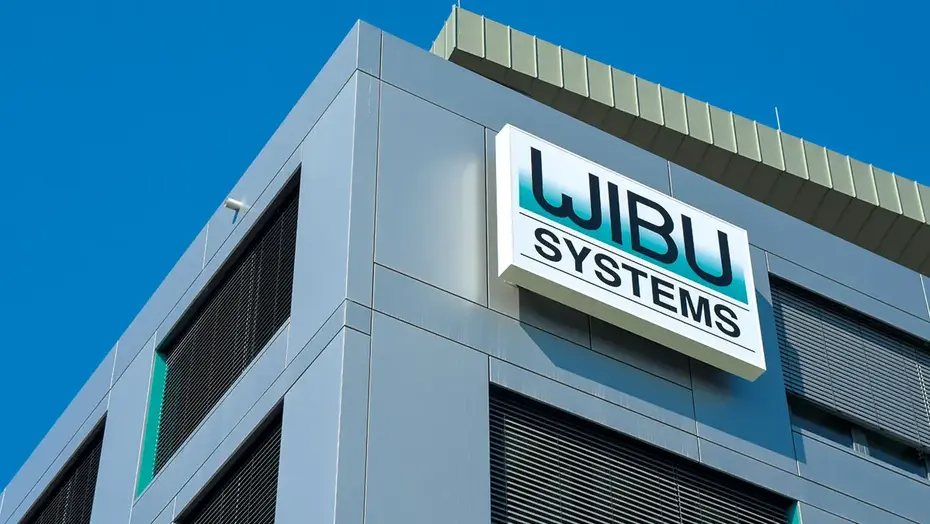 First Look: A New Home for Wibu-Systems
The time has come: On 14 April 2021, WIBU-SYSTEMS AG changed its entry in the company register to Zimmerstrasse 5, 76137 Karlsruhe, Germany. At the new address, an amazing new building, constructed from sustainable materials and with an exceptional environmental footprint, offers over 90,000 square feet of space for more innovation and continued growth.
Impressive Stats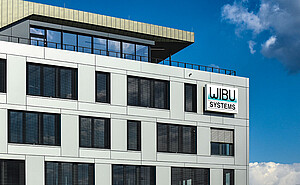 The new building rests on no fewer than 500 pillars, sunk to a depth of 40 feet, each measuring two feet in diameter and filled with four metric tons of concrete for a solid foundation that could withstand even an unlikely Rhine valley earthquake. Inside, the building is kept warm with distance heating, using only 240 kW power, often from renewable sources, and cooled with a 420kW water-driven cooling unit, whose max. 65 kW power intake is supplied by our new 80 kWp photovoltaic system.
Quiet heating / cooling fans offer comfortable air conditioning without annoying drafts and with excellent acoustic properties. An additional ventilation system with waste heat recovery adds "fresh air" in transit spaces, meeting rooms, the lobby and foyer, conference facilities, cafeteria, and the production unit for more concentrated work.
Our very own substation connects the new HQs to the 20 kV ring network for reliable green" electricity. The underground and public parking spaces include 20 fully compliant EV chargers with clever load management, as well as additional chargers for electric bicycles. To bridge any power outages, the entire system is fitted with a battery-based UPS (400V, 40 kW) and a 65 kW Diesel emergency generator.
Modern access controls without mechanical keys, a special security zone with turnstiles for the hardware, embedded, and CodeMeter Protection Suite development teams, and burglar alarms with exterior CCTV monitoring, protect the facilities from physical threats. The server and electrical rooms are fitted with separate, redundant AC facilities and ASD early warning smoke detectors for immediate emergency responses and greater reliability. The fire alarms are also connected with a direct line to the Karlsruhe municipal fire department.
The building facilities use a cleverly designed, consistent building control system with energy management, PLC, and flexroom controllers made by WAGO. The system is fed with data from weather monitors, DALI motion and constant light detectors, carbon dioxide monitors, and EnOcean panels and switches that operate the blinds via the SMI bus, DALI-controlled lights and lamps, the six-way valves for heating / cooling, and volume control valves for superior air quality.
The sanitary facilities use mechanical ventilation and include touchless taps, soap dispensers, and hand dryers with HEPA filters – hygiene precautions that are proving their worth in the current environment.
A redundant 1 GBit/s fiber optic connection and internal IT infrastructure with copper and fiber optic cables, switches with up to 40 GBit/s and around fifty Wifi 6 WPA3 access points distributed through the building guarantee excellent access, with a conscious decision to go for "Security made in Germany" in the form of hardware by Lancom, a subsidiary of Rhode & Schwarz.
The liberal scale of the building's windows let in abundant natural light, adjusted with intelligent blinds. The post-and-beam construction of the ground and top floor façade itself ensures optimum insulation for both heat and noise. Its premium insulation materials and elegant and durable Alucobond shell, mirrored in the handcrafted VMZinc cladding on the upper floor, are both long-lasting and sustainable – qualities that match Wibu-Systems' principles and work discipline.
Testing, Production, and Warehousing Facilities
A crammed production site makes it harder to keep processes clean and organized, stands in the way of efficiency and quality improvements, and makes it virtually impossible to track reliably what is going on. The new building gave Wibu-Systems the opportunity to create a completely new production unit from scratch. The new facilities not only add to the production capacities, but also make possible the vision of fully automated manufacturing, even at night.
It quickly became clear how error-prone the conventional approach to planning the facilities was, as it lacked the ability to simulate processes meaningfully. The DigiFab4KMU project, supported by the German Ministry of Economics and Technology BMWi and the Bundestag, allowed the entire space to come to virtual life in the Karlsruhe Institute of Technology – KIT's "Cave", long before the work had broken ground. The project brought together Wibu-Systems with archis, specialist architects and engineers from Karlsruhe, the Institute for Information Management in Engineering at the KIT, and systems vendor Arnold IT. The simulations made in the Cave revealed how a systematic value flow analysis could pave the way for more productivity and efficiency with an autonomous internal logistics system. Along the way, the shop floor layout could be remodeled and tinkered with to achieve the optimum flow for the production system without the effort of doing so in real life. Digital 3D laser scans were recorded throughout the construction process to keep the physical building aligned with the original plans and to produce a digital twin at the same time.
The EPA area in our testing facilities includes our current and new test units and 7 m high shelves with lifts for enormous storage space. Our intensive planning process guarantees an efficient flow of all materials from the semi-finished and component stores, where new parts arrive after careful incoming goods checks, to the post-production stores, where finished products are waiting for dispatch orders.
Office Space
We want to give the creative people here at Wibu-Systems a pleasant and healthy place to work in, with our own restaurant, a rooftop cafeteria, and a hybrid open-plan/individual office landscape. Adjustable tables, ergonomic chairs, and a number of meeting zones for spontaneous and creative get-togethers make for a varied and enjoyable working day. High quality, sustainable carpets made by Interface cover all office floors, with minimal emissions and the ability to capture fine dust. The 100% carbon-neutral and recyclable carpets add to a creatively modular and quiet office experience, an atmosphere also supported by the acoustic ceiling panels and other clever acoustic design features.
An Investment by Us – A Promise to You
We are passionate about our new site, and we are taking this passion forward to forge new opportunities for growth in all our units. We strive to offer the solutions that your business needs to advance; to continue to improve the quality of our processes, service, and products; and to create added value with innovative solutions for you, your business, and society at large. And we thank you for enabling us to do so with your support and your loyalty.
The new HQs' sister on the Wibu-Systems' campus, the House of IT Security, already has tenants for all of its fixed-lease units. Space remains available in the IT Security Club, its dedicated co-working area for researchers, start-ups, and industry enterprises interested in team and project spaces with all-inclusive service and special private areas. For enquiries visit the dedicated webpage or send an email.
KEYnote 41 – Edition Spring 2021