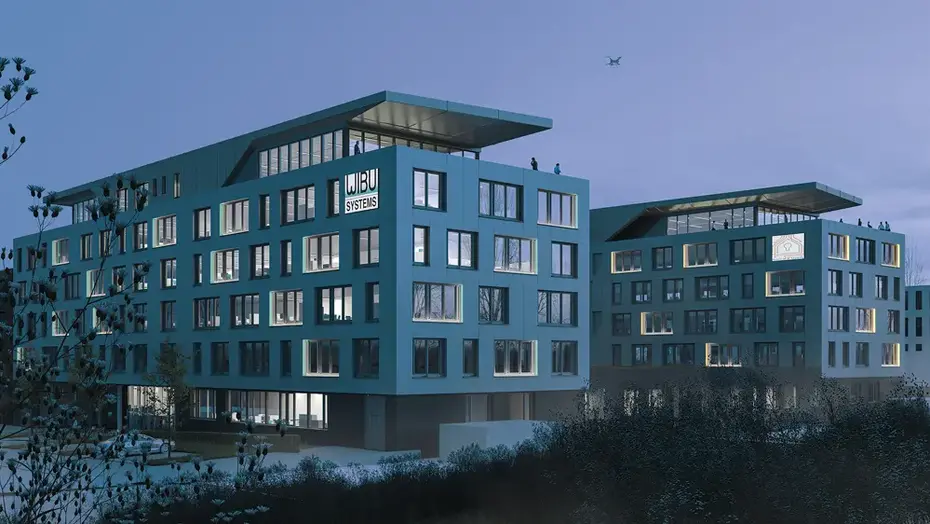 Co-Working and Offices in the House of IT Security
The health and future prospects of our economy depend on IT security as a "fundamental enabler" technology. Artificial intelligence, digitalization, and connected infrastructures all need security. One way to stimulate innovation in this and other fields is co-working: Knowledge workers come together in spaces shared with their peers and professionals from other enterprises and organizations. A study on co-working by the Fraunhofer IAO has revealed that co-working spaces have a measurable impact on innovation. Many companies have already realized the potential of the concept for gaining a strategic advantage in their market.
In addition to providing much-needed ad-hoc space for teams and project work and impor-tant all-inclusive services, co-working spaces create an inspiring environment that is proven to boost the innovative output of project teams and inspire a more independent, responsible, and self-driven style of working. The other advantages of co-working spaces include:
Professional office spaces fully equipped with the required infrastructure
Meeting venues for shared use
Completely furnished communal spaces, including kitchens, a lounge, and bar
Extremely flexible leases in terms of space and lease duration
Breaking with the usual open-to-all formula of regular shared office spaces, the House of IT Security is dedicated to a single area of work: the eponymous IT security. It will only lease space to companies, researchers, and official institutions working for a safer and more secure IT world. The new building enables the installation of top-flight building automation and security technology, including redundant fiber-optic connections and modern access controls. The elegant architecture will house premium workplaces, IT security labs, and communal spaces with lots of amenities. Compared to other co-working spaces, the House of IT Security enables calm and concentrated work in a relaxed atmosphere; separate offices and open-plan spaces ranging from 200 to 500 sqm are available.
By combining a range of actors in one focused physical beacon" for IT security, the new location will form a completely novel pool of expertise and competencies. Tenants can foster invaluable networks with other IT experts, especially from Karlsruhe's vibrant IT security community, and seize opportunities for new inter-company co-operation. Wibu-Systems is committed to pushing IT security research and progress by bringing together and actively supporting leading research institutes and enterprises working in the field.
The place to be: Wibu-Systems in Karlsruhe
Karlsruhe has established itself as one of Europe's top-four IT hubs, bringing together an exceptional pool of IT competence with approx. 4,200 IT companies in the city. The region's unique advantage is maintained by three centers of competence working on IT security and computer science departments regularly topping the academic rankings and educating the IT professionals of the future. The House of IT Security is already seen and supported as a great addition to the state's business ecosystem by all its local Karlsruhe partners (KIT, KA-IT-SI, FZI, CyberForum, Cyberwehr Baden-Wuerttemberg) and industry associations like bitkom and the VDMA.
Wibu-Systems has deliberately located its new facilities in the heart of Karlsruhe, near the high-speed rail station and with excellent local transport connections. The Citypark located only 100 m away is a perfect place to relax, and local restaurateurs offer a range of cuisines for every taste.
Stay up to date and tell us what you think!
You can request more information or share your feedback with us by taking five minutes of your time and completing our feedback form at wibu.com/hoits. We are interested in what you have to say even if you are not looking to join the House of IT Security. Thank you!
KEYnote 39 – Edition Spring 2020