Exterro – United States of America – Digital Forensics
Securing IP in the Realm of Digital Forensics
The Challenge
In the business of solving crimes, ranging from homicides, IP theft, ransomware investigations, kidnapping, and bombings, Exterro recognizes the need for security in helping organizations, law enforcement, and corporations collect and investigate data from computers, mobile devices, and corporate networks. The company's Forensic Tool Kit (Exterro FTK) software, developed by AccessData (later acquired by Exterro), has been the gold standard in Digital Forensics for over 15 years. AccessData wanted the ability to protect the IP invested in its FTK, safeguard data collected by their software, and provide their customers with a secure and easy means to get their software up and running quickly.
The Solution
In 2008, AccessData chose Wibu-Systems' CodeMeter software protection, licensing, and security technology to protect their proprietary IP from theft and employ a scalable licensing system. They purchased their first CmDongle, CodeMeter's secure hardware element, to secure the FTK software license. A few years later, AccessData also incorporated CmActLicenses, CodeMeter's software activation method, into their mix of secure license options. CodeMeter License Central Internet Edition integrates smoothly into their backoffice sales process for license entitlements.
The Result
Exterro, the preferred provider of Legal GRC software, continues to use CodeMeter technology for software protection and licensing of the Exterro FTK. They have peace of mind that their IP is protected from theft or unlawful usage and enjoy the benefits of a versatile licensing tool that can scale to meet the licensing needs of their growing global customer base. CodeMeter License Central allows them to efficiently create, distribute, and manage the entire licensing process, providing their backoffice with a versatile management tool and their customers an easy method to access and run their software.
The Company

Exterro empowers legal teams to proactively and defensibly manage their Legal Governance, Risk, and Compliance (Legal GRC) requirements. Their Legal GRC software is the only comprehensive platform that automates the complex interconnections of privacy, legal operations, digital investigations, cybersecurity response, compliance, and information governance. Thousands of legal teams around the world in corporations, law firms, and government and law enforcement agencies trust their integrated Legal GRC platform to manage their risks and drive successful outcomes at a lower cost.
Harsh Behl, Director of Product Management for the Digital Forensics Suite, Exterro Inc.

"It is critical for every organization to protect their IP while scaling their business. For that purpose, it was important for us to incorporate the industry standard software licensing platform, which is why we chose Wibu-Systems. They not only play a key role in protecting our software from the licensing perspective, but also prevent our software from falling into the wrong hands for ill intent. The CodeMeter solution also provides an easy way for our customers to get up and running with our software quickly."
Adding a Layer of Security and Protecting IP of Digital Forensics Solutions with CodeMeter
Exterro Inc., the preferred provider of Legal GRC software, and the Association of Corporate Counsel's exclusive Alliance Partner for E-Discovery, Data Privacy and Cybersecurity Compliance, announced the acquisition of AccessData in December 2020. The acquisition furthers Exterro's vision of empowering customers to proactively and defensibly manage their Legal Governance, Risk, and Compliance (GRC) obligations while maintaining and ensuring the highest levels of data integrity. By combining forces with AccessData, Exterro provides companies, government agencies, law enforcement, law firms and legal service providers with the only solution available to address all legal GRC and digital investigation needs in one integrated platform.
Organizations today are faced with continually expanding legal and regulatory obligations and ever-increasing security risks around their data and the data they hold on behalf of others. With the growth of big data from the wide variety of devices and systems, it can be challenging for investigators to find and collect relevant evidence in a timely and efficient manner. Exterro's FTK forensic software is designed to cut down on investigation time and resources by quickly locating evidence and forensically collecting and analyzing any digital device or system protecting, transmitting, or storing it with a single application.
Protecting IP and Evidence with Hardware and Software License Containers
AccessData required proven security technology to protect the IP invested in their FTK software. Additionally, they wanted to be sure that they could deny criminal elements the ability to tamper with the software that collects and produces the court evidence (like child porn pictures) critical to successful convictions.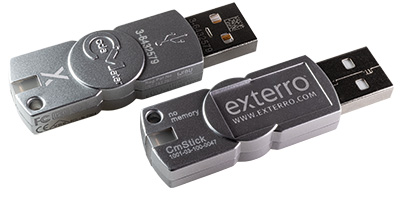 In 2008, AccessData integrated Wibu-Systems proven CodeMeter software protection, licensing, and security technology. They chose the highest form of security available at the time embodied in a secure hardware device, the CmStick. The CmStick represents the heart of the CodeMeter Digital Rights Management system in a USB device form factor. At the core of every CmDongle is a smart card chip, which includes a microcontroller with a secure storage area for cryptographic keys and the firmware. The CmStick contains the software license in the secure memory of the smart card chip. Wibu-Systems engraved AccessData's corporate branding to the CmStick, providing its customers with an attractive, readily identifiable device that would enable them to securely store their FTK license and run the software when needed by simply plugging the CmStick into a computer.
AccessData later gave their customers another license option by incorporating Wibu-Systems' CmActLicense into the mix. A CmActLicense is an alternative protection and licensing solution that consists of a signed and encrypted license file that is bound to the user's computer.
"Some of our customers found it easier to use our software without requiring someone to go into the datacenter and plug in the dongle," said Harsh Behl. "As customers move to the cloud and virtual environments, it is easier for them to use software-based licenses in those scenarios. However, we continue to offer both hardware and software-based license containers to our customers."
License Automation with CodeMeter License Central
In 2017, AccessData updated their license management processes with the installation of the Wibu-Systems' CodeMeter License Central Internet Edition, the database-driven license and entitlement management solution that automates the process of creating, delivering, and managing licenses. AccessData can create licenses and assign them to either the dongle-based license containers (CmStick) or software-based license containers (CmActLicense). The process is integrated with AccessData's existing sales workflow and scales easily as the customer base grows.
Exterro is now considering the ability to host the CodeMeter licensing system in the cloud.