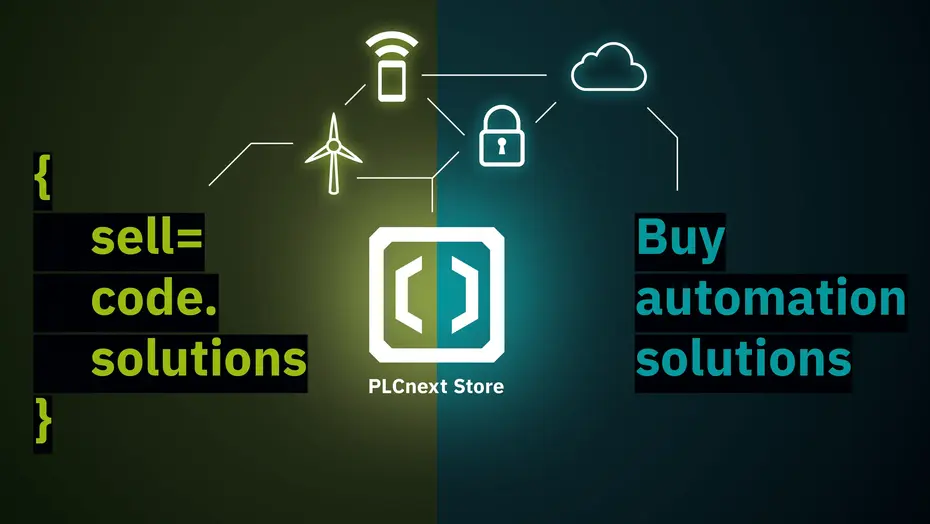 Phoenix Contact – Germany – Automation
Phoenix Contact relies on CodeMeter's licensing power for its PLCnext store
The Challenge
Industrial automation is a test case for the capabilities and great potential of the modern digital economy. Here, cutting-edge automation software meets hardware old and new, as it has to often run complex and heterogeneous infrastructures, where modern industrial controllers or advanced manufacturing technology live side by side with legacy machines. Phoenix Contact has committed to this new paradigm with its PLCnext ecosystem: Specifically designed to be open and flexible enough for its diverse user community and the many different conditions on the ground. The PLCnext technology includes a new open hardware and a modular software platform that accommodates both Phoenix Contact's proprietary and third-party solutions. With this transition into software-driven, digital IP as the core asset of the entire ecosystem, new ways to protect, license, and monetize this IP had to be found.
The Solution
Phoenix Contact introduced the PLCnext Store as the backbone of its new ecosystem: The company itself and third-party developers can provide their software in the form of apps for industrial automation engineers to buy and download for use on Phoenix Contact's PLCnext controllers. When looking for the right protection and licensing technology for the entire process, Phoenix Contact turned to Wibu-Systems' CodeMeter, which is already an integral part of its own desktop solutions like PLCnext Engineer. CodeMeter licensing is built right into the PLCnext Store's inner workings and helps protect, license, and distribute the invaluable IP.
The Success
App developers can now sell their work through the secure and effective PLCnext Store channel, with their software protected and licensed by CodeMeter. The traditional flexibility of CodeMeter means that apps can also be offered as premium, free, or even trial versions for automation engineers to test and find the best software for their chosen setup. Regional restrictions can be set to fine-tune the best sales strategy, and the entire app protection, licensing, and billing system is smoothly integrated into the PLCnext Store processes to keep the entire experience as unobtrusive and lightweight as possible for both developers and users.
Daniel Buschatzky
Technology Manager, PLCnext Technology
PHOENIX CONTACT Electronics
"CodeMeter has already been an integral part of the Phoenix Contact software development and distribution process for many years, and it was the right choice again to provide the protection and licensing backbone of our PLCnext Store. It gives us and our third-party developers great peace of mind, as we know that our IP can make its way into the world without worrying about theft or reverse engineering."
The Company
Phoenix Contact is the global market leader for components, systems, and solutions in the field of electrical engineering, electronics, and automation. Today, the family-owned company employs around 20,300 people worldwide and generated sales of 2.97 billion euros in 2021. Its headquarters are in Blomberg, Westphalia. The Phoenix Contact Group includes 15 German and four international companies as well as 55 sales companies around the world. Internationally, Phoenix Contact is present in more than 100 countries.
Phoenix Contact: Building a new app ecosystem with the power of CodeMeter
Phoenix Contact, the company behind some of the essential technology for today's smart industry, has embraced the new digital, software-driven economy with PLCnext, its new hardware and software ecosystem for the industrial automation world. Automation systems have always been a complex combination of hardware and software, but new digital capabilities and the transition towards software-realized and software-dependent machine functionality have shifted the focus squarely over to the software side.
As new industrial communication protocols, novel manufacturing technologies, and advanced controller technologies are making their way into increasingly smart factories around the world – often working right alongside long-established brownfield facilities – the engineers responsible for designing these systems on the ground and the people in charge of operating them require simpler solutions to keep on top of increasingly knowhow-heavy and complex infrastructures. Phoenix Contact has responded to this need with its new family of automation solutions, PLCnext, which includes both state-of-the-art embedded hardware and a growing selection of mix-and-match automation software offered in the popular AppStore format through its PLCnext Store.
The digital marketplace makes it easy for developers to monetize their work, as the entire process has been designed to be as low-key and streamlined as possible. The store takes care of client management, app distribution, billing, and – crucially – protecting and licensing the apps with CodeMeter by Wibu-Systems, Phoenix Contact's licensing system of choice. The developers can determine the best pricing and sales strategy for their apps, with regional restrictions and a choice of licensing models available. Users can log on to the store and pick the optimum software for their automation needs from a selection of free or premium apps, including the option of trial licenses to test their choice for their specific target applications.
Integrating CodeMeter's popular encryption and licensing capabilities in the Phoenix Contact universe was made easy by the modular, built-to-match flexibility of Wibu-Systems technology. With CodeMeter License Central, the team at Phoenix Contact has a powerful integration tool at their disposal, which allows the license creation and distribution process to be slotted right into the existing backend infrastructure. Built to work with most common CRM, e-commerce, and ERP systems like SAP or Salesforce, CodeMeter License Central can handle and/or automate many of the license management operations that would otherwise use up valuable labor or resources: Licenses can be assigned, borrowed, returned, sold, and generally managed through the database-driven solution. With a choice of powerful interfaces, all of these operations can be integrated into existing workflows or automated for full self-service comfort.

For Phoenix Contact's purposes, this ease-of-use was part of the rationale for the PLCnext Store experience. Everything is built in to have a native feel for users of Phoenix Contact's own software or third-party apps: They can simply buy the features and capabilities they need to orchestrate their automation setup from the store and do not even have to know about the encryption and licensing mechanisms working in the background. But with CodeMeter, this comfort and level of automation does not compromise on the essential security. The award-winning CodeMeter Protection Suite includes dedicated and extensively automated encryption capabilities for a range of platforms and development environments. Phoenix Contact or its third-party developers need not worry about adding proprietary encryption mechanisms, as everything is protected with the same technology and to the same unassailable standard of Wibu-Systems' CodeMeter.
For developers, this takes away much of the burden and the worry of monetizing their IP: The licensing process is built right into the PLCnext Store experience for them, reducing the time-to-market considerably, giving them a new sales channel, and opening up new markets. With Phoenix Contact and Wibu-Systems bringing their respective skills to the table, all of this becomes possible for app developers with the peace of mind of knowing that the software is protected with CodeMeter's powerful encryption mechanisms and released into the wild with smart and perfectly tailored CodeMeter licenses.