Desoutter – France – Automotive
Desoutter streamlines the digital transformation with CodeMeter
With CodeMeter from Wibu-Systems, the company can offer its customers an answer to the expectations generated by Industry 4.0 and protect its intellectual property at the same time.
The Challenge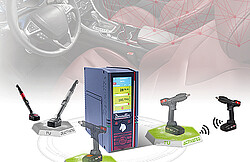 In the Industry 4.0 world, Desoutter's customers call for a higher degree of flexibility in the way they can use their products. The company looked for a solution that could bring that level of versatility within reach for every customer and help establish Desoutter's position as an Industrial Internet frontrunner in the market.
The Solution
With its hardware products, Desoutter no longer sells software with fixed licenses. Instead, the company implemented an innovative concept that lets its customers dynamically assign a certain budget (in the form of Unit Values – UVs) to access only the features and functions they need. In order to protect the Desoutter UVs against the threat of cybercrime, the company has turned to the expertise of Wibu-Systems.
The Result
While Desoutter's tools remain the focal point, it is with its software that Desoutter makes a real difference. The combined power of Desoutter UVs and the tough Wibu-Systems protection mechanisms ensures that customers can invest only in the features they specifically require. And by providing such a high level of flexibility, Desoutter is strengthening the relationship with its customers.
The Company

Desoutter Industrial Tools designs and produces electric and pneumatic assembly tools, such as high-tech tightening and drilling solutions for the aerospace and automotive industries. Desoutter is headquartered in the French city of Nantes, where more than 200 of its 1300 employees worldwide are engaged in R&D, including 60 dedicated software and electronics developers.
Laurent Macquet, Line Manager Software & Embedded Systems at Desoutter
"For us, it's important that we can offer our customers the adaptability they need in Industry 4.0. It's not so much about selling as many licenses as possible, but rather providing a solution that meets the peak versatility our customers demand. How do we do that? We have taken a new look at each tool's features and made them more flexible for our users. Together with Wibu-Systems, we have built a solution to free us from the constraints of traditional software licensing."
Redesigning the business strategy in accordance with Industry 4.0 principles
With its tools, Desoutter has always strived for cutting edge technological progress. On modern assembly lines – e.g. at a car factory – they do far more than merely tighten screws or drill holes. Desoutter's tools are cleverly tailored to the materials they are used with; they guide their operators through the assembly process, and they afford the level of traceability required in modern high-precision manufacturing. Desoutter operates in a highly competitive market, where it is essential for the company to constantly re-invent itself. "Right now, we are going all in with a radical transformation", says Laurent Macquet, Line Manager Software & Embedded Systems at Desoutter Industrial Tools. "We have ceased being a company that just sells hardware. Bit by bit, we're adding a significant wedge of software to our product portfolio."
With that transformation, Desoutter caters actively to the needs of its customers. Industry 4.0 requires all players in the economy to be more flexible. "If a customer of ours refocuses his operations in order to respond fluidly to a change in its market, then our mission with our solutions is to make that rebalancing of his activities just as flexible." The big question for Desoutter was how the company could best monetize its software by providing greater versatility to their customers. "And, naturally, this has to be done securely", says Macquet, "with no risk of misuse of our software."
Unit Values
Desoutter's high-tech solutions are composed of much more than hardware alone. Controllers, embedded systems, and software all form part of the complete package: In the past, each tool needed a separate controller to operate. Nowadays, one controller can run up to twenty tools via a wireless connection. Every piece of hardware also used to have its own software on board, with a traditional product license attached – too rigid and unwieldy for today's world. That is why Desoutter came up with a completely new idea: Desoutter's Unit Values (UVs).
The idea is straightforward: Customers buy UVs, which they can then deploy in order to use a certain service, e.g. a tightening strategy. If they no longer need that strategy they have the possibility to recover the UVs and later convert them into a different service or even redeploy them on another tool. "The idea behind this is that we give our customers a way to quickly rebalance their operations," says Macquet. Customers used to buy licenses with a set scope, which would be effectively wasted if the customers decided to reconfigure a workstation for another purpose. "With our new process, our customer can redeploy their available UVs immediately for any other purpose."
Complete data protection
For Desoutter, it was essential that UVs could be purchased electronically, and that the whole concept would be integrally protected. After all, the hacking or counterfeiting of UVs would directly impact the company's turnover. "A ready-made proprietary solution to our problem did not seem to exist," Macquet continued. "Wibu-Systems, however, was extremely interested in our concept. By working closely together, we achieved our goal." Specifically, Wibu-Systems takes care of not just the general protection of the design concept, but also of the infrastructure needed to create and deliver the UVs. The solution itself is based on CodeMeter software protection and secure licensing system, with Wibu-Systems tailoring its technology to meet the specific needs of Desoutter.
These days, customers can use an online configurator to cherry-pick the features they want on a specific tool and then order the UVs they need. Desoutter delivers the UVs via an e-wallet, currently in the form of a USB dongle. The customer can activate the service by simply connecting the stick to a controller. "We are planning to move beyond USB sticks", Macquet added, "and deliver the UVs online. We're currently working on an extension of the current solution with Wibu-Systems." Thanks to the partnership with Wibu-Systems, Desoutter has succeeded not only in serving the market in a more flexible way, but the company itself has fully embraced the spirit of the digital transformation and has perfected the protections for its intellectual property.