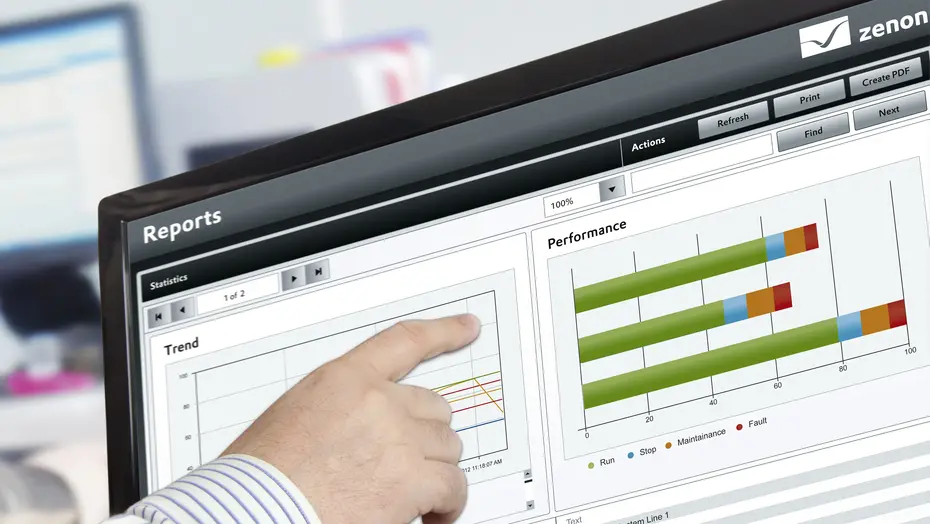 COPADATA – Austria – HMI/SCADA
Innovative and dynamic process solutions right from the start
The Challenge
From as early as 1991 COPA-DATA realized a need to find a longterm solution for copy protection – one that encompassed its corporate philosophy of openness and flexibility. Requirements included compatibility with Windows and a trouble-free experience for the customer, who should be able to transfer the key to new or modified equipment, and who is supported with the difficulties that can be encountered in an industrial environment – such as network connections being unavailable or defective.
The Solution
Hardware-based software protection fulfills many of the industrial environment prerequisites: the dongle can be used for embedded devices, is hardware-independent, and is reliable in offering a long lifespan. Easy handling and flexibility of both Wibu-Systems' WibuKey and CodeMeter not only meet COPA-DATA's requirements, but benefit our customers as well.
The Success
We have been collaborating with Wibu-Systems since the early 1990s. After a quarter of a century of Wibu-Systems still supporting its original products, the key success factors of durable reliability and compatibility - typical of the automation industry - are fully guaranteed. But the solutions are far from being stagnant: they can be tailored according to our customers' needs as well as our own. The flexibility and open interfaces that Wibu-Systems offer fit perfectly to COPA-DATA's company philosophy. Smooth administrative handling, simple maintenance, and the ability to get started easily are advantages for both our customers and ourselves.
Markus Helbok,
Head of Technology Services
"With the invention of the HMI/SCADA systems, zenon was an important future-proof solution to develop right from the start. The challenge also included protection against piracy. COPA-DATA already found a suitable solution back in 1991: WibuKey. Since zenon version 1.0, the dongle protection demonstrated to be extremely reliable, which has in-turn resulted in a long-term cooperation. Meanwhile, we have now reached zenon version 7.11 and still enjoy compatibility with WibuKey, as well as with CodeMeter and CmActLicense. Wibu-Systems has proven to be a solid partner with robust solutions over the past 20 years. Especially in the industrial environment where products go through long life cycles, delivering reliability and compatibility is an invaluable competitive advantage."
The customer

COPA-DATA is the technological leader for ergonomic and highly-dynamic process solutions. The company, founded in 1987, develops the software zenon for HMI/SCADA, Dynamic Production Reporting and integrated PLC systems at its headquarters in Austria. zenon is sold through its own offices in Europe, North America and Asia, as well as partners and distributors throughout the world. Over 80,000 installed systems in more than 50 countries provide companies in the Food & Beverage, Energy & Infrastructure, Automotive and Pharmaceutical sectors with new scope for efficient automation.
Wibu-Systems and COPA-DATA
COPA-DATA has been working in the field of automation software for over twenty-five years and for much of that time we have been accompanied by Wibu-Systems. Why did we decide on Wibu-Systems in the first place? For us it was all about protection against piracy – that is, however, easier said than done!

When working within the industrial field, one has to consider that specific requirements need to be met. For example, long-term backwards compatibility is one of our key benefits and this also has to be consistent with our licensing; or within the industrial environment, certain infrastructures are not given, such as a connection to the World Wide Web. Furthermore it is important that the key is still valid even when the production equipment has changed. The solution for hardware protection was envisioned in the form of a dongle.
What are the advantages of a hardware key?
When weighing out the pros and cons of a hardware solution versus a software solution we came to the conclusion that the main advantage of a hardware key is its transferability. In other words, if the equipment or hardware components change, there are no further considerations necessary when using a dongle as the repository for the protection key and the software license. Additional complicated maintenance is no longer required.
Software solutions would be dependent on the computer and its components. For software keys, it is often necessary to have an active internet connection, which is not required for a dongle. Hence, a lot of administrative effort can be saved with a hardware solution.
Plug and Play
The solution of Wibu-Systems works as a plug-and-play solution. The effort is minimal, for ourselves as well as our customers. The dongle is suitable for industrial applications and embedded devices. We at COPA-DATA appreciate the different form factors that the hardware devices can take the shape of. USB dongles, CF and SD cards are just a few to mention. In this way, specific customers' requirements can be individually met. For example, the USB dongle can be mounted inside the industrial equipment to prevent losing the device.
And for our customers?
Some customers are not happy about the fact that if the USB dongle is lost the license is lost too, or they are afraid of additional hardware costs. However, these arguments are clearly outweighed by the benefits. Integration, flexibility, and openness, as well as customization, are not only advantages for us, but also for our customers. Long lasting compatibility is also very valuable for our customers. Wibu-Systems has been delivering the WibuKey now for twenty-five years and we still can deliver this solution to our existing customers. In the past, old parallel ports have been removed from new hardware solutions but Wibu-Systems keeps delivering a 100%-compatible USB replacement. In our fast changing (hardware) world, this is a rock solid foundation for our customers. They, just like us, really appreciate such long-term availability.
Service and Delivery
Wibu-Systems' order processing time is short, even when dongles are customized and branded with our engraved product logo. In addition, the units come pre-programmed, which also means fast delivery time to our customers.
We use different types of solutions. For example, network dongles, where a single dongle contains a number of licenses, or dongles with preset time limits (such as used for test licenses). Therefore, we can use the system for all our products.
Wibu-Systems has been able to show that it offers great service with competent personnel as well as straightforward handling of requests.
In a Nutshell
With approximately 7,000 hardware license keys per year, COPA-DATA meets the challenges of industrial automation when it comes to flexibility, openness and security. Wibu-Systems plays a fundamental role in achieving this.