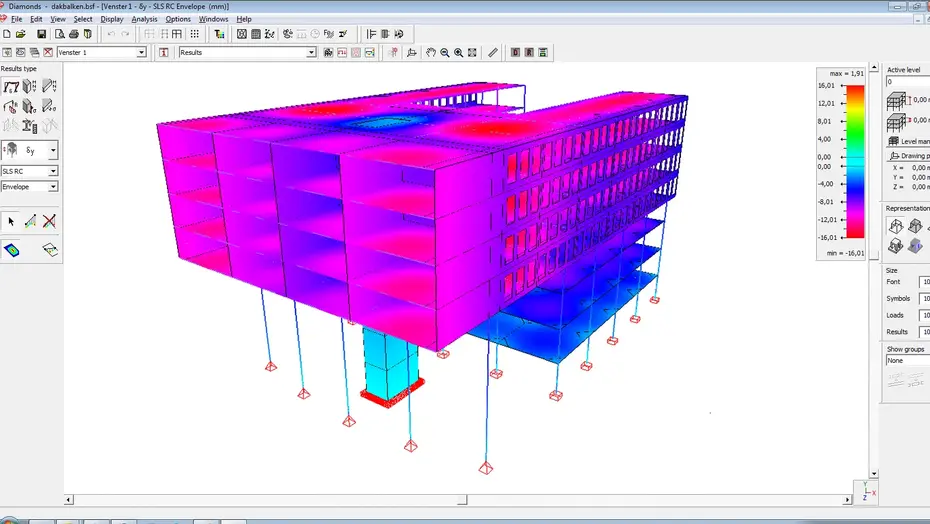 BUILDSOFT – Belgium – Structural design analysis
Wibu-Systems provides software copy protection and a fast responsive licensing solution for BuildSoft's sophisticated engineering applications
The challenge
With multiple application software packages covering the entire engineering spectrum of steel, concrete and wood structures across the engineering world, BuildSoft needed a proven method that would protect the investment in the advanced design solutions upon which it has built its business.
The solution
BuildSoft chose Wibu-Systems as its software protection and licensing partner. The company now deploys CodeMeter not only to prevent the illegal use of its advanced application solutions, but also to lighten the load of updating and renewing software licenses, as customers react to the constant need for design flexibility in a changing world.
The success
Working with Wibu-Systems has simplified BuildSoft's business processes. First of all the company has the guarantee that its intrinsic software assets are protected with a solution that integrates transparently into its engineering workflow. But most importantly, the task of updating license keys and ensuring account receivables is seamlessly consolidated in the automated procedures of CodeMeter, which saves BuildSoft valuable time and energy.
Geert Goossens,
Managing Director, BuildSoft
"Wibu-Systems is an important partner for BuildSoft. High value software providers such as ourselves have a vested interest in exchanging licenses in a way that is secure and foolproof. For example if one of our clients is using our Diamonds application in a remote location, then finds the need to add an additional module, they will require the addition of an extra license. Using CodeMeter technology from Wibu-Systems we are able to safely and quickly make this happen, through a simple update file derived by CodeMeter that we e-mail to the customer allowing him to automatically update the key."
The Customer

BuildSoft develops high-quality engineering software applications for structural design analysis. The company specializes in solutions for buildings and structures in reinforced concrete, steel and wood. BuildSoft's goal is to equip customers with powerful software design tools that are easy to use through a highly intuitive user interface. With clients in 48 countries, Buildsoft has the strongest connections in its country of origin, while its distribution network spans across Europe, Middle East and South America.
Wibu-Systems and BuildSoft
BuildSoft, a Belgian software company located in Ghent, was founded in 1989. In addition to its industry leading structural design computation software, which is completely written in-house, the company is also largely experienced in Eurocodes. This special setup allows Buildsoft to offer a quick and adequate support to structural engineers.
BuildSoft offers sophisticated software solutions, like Diamonds, PowerConnect, PowerFrame, ConCrete (together with Concrete Plus) and 1-2-Build. Diamonds is a finite element package for calculating steel, concrete and timber structures, consisted of bar and plate elements. It has also specific features for seismic and dynamic design. PowerConnect is dedicated to the design of steel connections, while PowerFrame is applied to frame structures in steel, concrete or wood. It has specific features for seismic and dynamic design and even for fire resistance design. ConCrete offers the functionality for calculating reinforced concrete beams while ConCrete Plus automatically generates reinforcement plans for continuous beams which have been calculated using ConCrete, Diamonds or PowerFrame. Finally, 1-2-Build is BuildSoft's entry level package for fast design of beams, columns and 2D frameworks in concrete, steel or timber.
While BuildSoft also sells its software to architects and contractors, its primary target are structural engineers. Like thousands of other independent software developers, BuildSoft safeguards its intellectual assets and ensures copyright protection for its exclusive product portfolio with CodeMeter technology from Wibu-Systems. BuildSoft has relied upon Wibu-Systems since the initial release of Diamonds in 2008. CodeMeter not only guards against illegal viewing of proprietary documents or improper use, but also facilitates licensing administration.
With CodeMeter, clients receive a single standardized system based on a memory stick and a software-based license activation, which are supported by the great majority of PC and embedded operating systems. CodeMeter delivers proven security and standardized functionality in many form factors and can be customized to meet unique requirements. The all-in-one solution is backed by expert, localized support and services around the world.
Wibu-Systems' technologies incorporate known standards and are augmented by the in-depth expertise acquired by delivering software security solutions for over 25 years. Its software and data protection solutions are inextricably linked with the ability to add a high degree of licensing control for the user. Licensing solutions are designed to allow customers like BuildSoft to be responsive to today's rapidly changing market demands.
According to Goossens: "We ensure that when we deliver a license it is accurately monitored. For example, we only activate the application from the date the invoice is paid. If the invoice is not paid, the software is locked. In this way we avoid arrears and the time and expense of having to follow up to ensure payment."
CodeMeter also simplifies interaction with BuildSoft's distributors. Partners keep a stock of 'empty' USB sticks and receive the necessary licenses conveniently by e-mail.
"This feature saves us a lot of time-consuming work and energy," said Goossens. "Licenses are almost always provided on memory sticks, which can be updated or renewed over the network. For trial licenses and student licenses we also use solutions from Wibu-Systems, but as a pure software solution, without the need to rely on a USB stick. The beauty of the Wibu-Systems solution is that there is no additional implementation requirement from our side."
Geert Goossens,
Managing Director, BuildSoft