ArtiMinds – Germany – Robotics
The Challenge
The ArtiMinds Robot Programming Suite is a state-of-the-art software solution for programming industrial robots. With the high level of innovation in all ArtiMinds products, the protection of their intellectual property has always been a key consideration across the entire development process. The ability to manage licensing modules based on different factors like user seats or robot-bound licenses has become a further challenge for ArtiMinds.
The Solution
Wibu-Systems' CodeMeter is the perfect fit for the ArtiMind's development challenges. CodeMeter dongles let the company easily manage and deploy software licenses based on user seats. The built-in hidden storage on these hardware secure elements allows ArtiMinds to register robot IDs and store licenses based on a known number of robots to be programmed. Furthermore, CodeMeter AxProtector provides ArtiMinds with another cutting-edge tool to safely encrypt its software solutions and prevent the theft of intellectual property.
The Result
The implementation of Wibu-Systems' technology permits ArtiMinds to bring their business model to market without worrying about the potential loss of intellectual property. In doing so, Wibu-Systems has become the enabler for highly innovative technologies that are reshaping the world of automation. ArtiMinds truly relies on partners like Wibu-Systems to pursue its vision: Healthy working conditions without harmful or tedious jobs for human workers – Automating our World.
Dr. Sven Schmidt-Rohr,
CEO ArtiMinds Robotics GmbH
"CodeMeter provides a comprehensive security platform for our industrial robot software suite. It delivers not just protection for our own IP as a vendor and license enforcement capabilities, but a cryptographic framework that allows our customers to protect the automation process IP they build on top of our software suite. This empowers our users to secure their production know-how against threats of all kinds, while still being able to apply this same know-how flexibly in their production. With its many deployment options, CodeMeter supports our software on shop floors with and without connectivity. Its 360° set of security functionalities has convinced us to include CodeMeter as the only commercial 3rd party element in our software suite."
The Company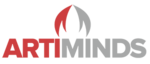 ArtiMinds Robotics specializes in the development and sales of software to standardize the workflow for automating with robots. As a pioneer in flexible, sensor-based automation solutions, ArtiMinds strives for the easy acquisition, adoption and refinement of process know-how – boosting agility and sovereignty of its customers. With more than 70 employees in Karlsruhe, Germany, the completely independent technology company serves its clients around the world.
Stepping up a notch in the robot industry
Industrial robots have been a ubiquitous feature of factories and production sites everywhere, ever since the first wave of robots hit shop floors in the 1970s. Each generation has seen the technology evolve to new heights of accuracy, versatility, and efficiency. Half a century after the first patents for such robotic technologies were granted, the industrial world is experiencing another generational shift: The industrial Internet of Things (IIoT) and the inevitable arrival of smart factories represent another step-change for robotic capabilities – capabilities that need leading-edge software solutions to be protected and commercialized.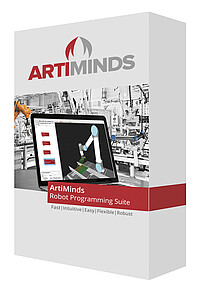 ArtiMinds Robot Programming Suite (RPS) combines online and offline programming in a unique and intuitive way to create complex robot programs without manually writing a single line of source code. The software is flexible and universally applicable, delivers robust solutions, and is transferable to various applications.
ArtiMinds RPS relies on an innovative template-based programming concept. Its users are able to choose from more than 60 integrated templates to build the program structure simply via drag & drop. Intuitive wizards guide through the setup process. Key poses of the robot program are taught either online – by guiding of the actual robot arm – or offline in a 3D simulation environment. Finally, the software automatically calculates all motions and simulates their execution in the 3D visualization. Subsequently, ArtiMinds RPS generates the source code in the native robot language and transfers it to the robot controller.
The extension modules ArtiMinds RPS +Force und ArtiMinds RPS +Vision provide powerful templates for the implementation of 6D force-torque sensors and 2D or 3D vision systems into the robot program. This enables the robot to adapt the movements based on visual or tactile sensor data and to handle process or part variances just as a human worker would do – by relying on the senses sight and touch.
The key element of value creation lies in the translation of a template sequence into complex robot specific source code. In order to protect this intellectual property, ArtiMinds relies on the blend of Wibu-Systems CmDongles and Wibu-Systems AxProtector, a combination of hardware and software tools designed to protect digital assets against piracy, reverse engineering, and tampering.
Out of the extremely varied range of hardware secure elements Wibu-Systems makes available, including USB sticks, secure memory cards, and ASICs, ArtiMinds has selected CmStick/C Basic for its robotics use case, the most compact USB variant able to withstand environment temperatures in the range -25° to +85° C.
The key protection element of Wibu-Systems working in unison with the dongles is AxProtector, which fully encrypts executables and libraries for native languages as well as .NET environments and Java. Through a post-build process, it injects best-of-breed anti-debugging and anti-disassembly methods into the compiled code. Its engine remains constantly on guard for security threats, immediately interrupting software execution when hazards are detected.
Furthermore, the integrated tools inherent with Wibu-Systems CmDongles enable easy and comprehensive license and entitlement management. ArtiMinds uses the built-in unit-counters and maintenance period counters, for example, to restrict automated software updates to a valid time-bound update license. The hidden data feature of CmDongles, safe from manipulation or mishandling by the customer or third parties, is an invaluable resource to register robot IDs for robot-bound licenses.
With the licensing and security features Wibu-Systems has brought to the table, ArtiMinds is in perfect position to roll out and monetize their unique robot programming competencies, helping manufacturers and robot operators around the globe to leverage the promise of the next industrial age.