Additive Talks
2021-10-13
Virtual Event
Additive manufacturing has arrived with a bang. Technological advances have turned 3D printing from a niche pursuit and vague commercial vision for a far-off future into a genuinely disruptive force for modern industry today. The technology's ability to liberate manufacturers from the constraints of restrictive machine designs, with fixed functionalities and reliance on expensive tools for long production runs, has made the idea of manufacturing-as-a-service a realistic business option for aspiring and established manufacturers alike.
Additive Talks is a novel format for sharing expertise in the field: Individual sessions, each dedicated to a specific aspect or challenge for additive manufacturing as a technology and business, promise to bring thought-provoking insights to a wider audience.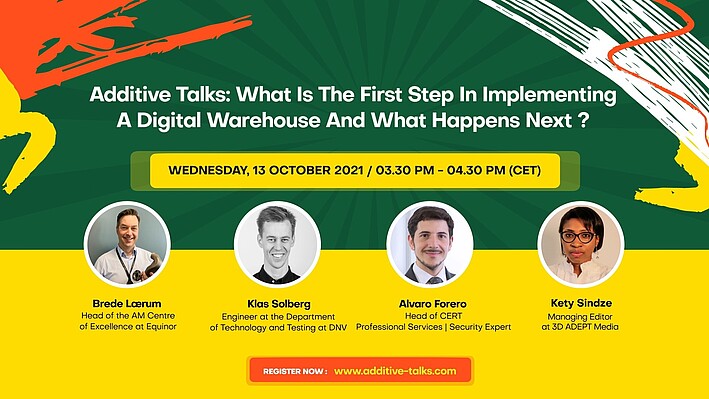 Wibu-Systems will be contributing our own expertise and experience in pride of place as part of the first Additive Talk in this year's series on 13 October. Joining Brede Laerum, Head of the Additive Manufacturing Center of Excellence at Equinor, and Klas Solberg from DNV, our very own Alvaro Forero, Security Expert and Team Leader of our Product Security Incident Response Team, will bring the Wibu-Systems' perspective to the question: "What is the first step in implementing a digital warehouse?"
Listen to the experts to find out how smart protection and licensing solutions like Wibu-Systems' CodeMeter technology can overcome the IP security concerns inherent in a business where the people making the products are not necessarily the people owning the IP to them. In a truly free market for manufacturing services, digital data and designs are an invaluable currency, and it will be the providers that can guarantee its security that will benefit most from the creative monetization potential of this new way of doing business: Greater trust equals more customers equals greater success.